So with the (England-less boo hoo) final nearly upon us, I knew it was time to get this tag done! I saw it on my lovely friend Erin's blog which you can check out here and just knew I had to steal it and have a go!
Reading with Rendz created the FIFA World Cup Book Tag to celebrate this once in four year event! Even though England's dreams are over, I couldn't leave this bag behind!
Rules:
Link back to this post so I can read all your wonderful answers!
Answer the questions the best that you can!
Tag a few friends at the end to keep this tag going!
 Have fun!
Let the Flags Fly
Wave them high and proudly!!! Look at all the fun colours!!!
A book from your world cup competing country/ the country that you want to win!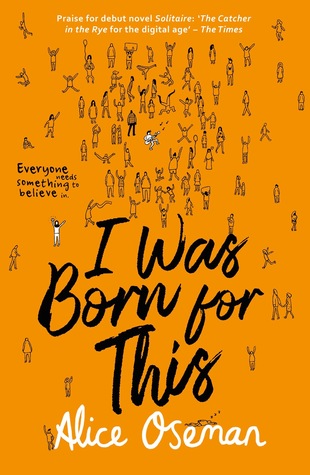 For this question, I had to choose the best that UKYA has to offer and for that I chose the mighty Alice Oseman. I Was Born For This is her latest release and it's an absolutely brilliant book!
It's The Beautiful Game
Football! Soccer! Beautiful! Whatever you call it!
A book with a pretty cover / A book that features soccer
For this I went with a pretty cover because LOOK AT THIS. I love Connie and her book AND this cover and *sigh*.
Ferocious Fans
Face paint! Big signs! Lots of noise!
Name a fandom you love being a part of!
I had to take Erin's answer here because we are both HP mad! I love loving Harry Potter and that's all I can say about it really.
Teamwork! Teamwork! Teamwork!
There is no way one person can win the game!
Name your Favourite Bookish Crew / A Book that has Co-Authors!
Again, I'm stealing Erin's answer here because this book is written by a small football team! SEVEN co-authors. I was on the blog tour for Floored and you can see that post here.
Ref Blows the Whistle
You either love him or you hate him.
Name a book/character that you mixed feelings towards!
I love Dodie and I love her music but there was something about her book that just didn't click with me. 😦
GGGGOOOAAAALLLL!!!!
Everyone loses their heads and starts yelling at the top of their lungs!
Name your last 5 star read!


It took me ages to read this and I am so glad I did because I LOVED it and WHIZZED through it. Yay, Simon!
The Gold Cup
It's what we play for.
The Most Coveted/Loved Book On Your Shelf
I won a signed copy of this in a giveaway and I am so proud to own it! Also this is a spacey Othello retelling so I NEED to get to it ASAP!
This was such a fun little tag and I've really enjoyed being caught up in World Cup fever! It's Coming Home…in four years…right?
Have you been enjoying the world cup? Let me know down below! 
Follow me on twitter for updates on what I'm reading. Look at the Book Club here.
Thank you lovelies and happy reading! ox