I am so proud of my lovely friend Amber and her new Book Double Double Toil and obviously I jumped at the chance to be on the blog tour! I'm currently reading the book and loving it, you can expect a full review later on in the week. But for now, here's Amber matching her characters with Disney characters! 
When I agreed to write a Disney-themed post for my friend Rosie at Rosie Freckle Reads, I was somewhat overwhelmed by the possibilities.  I am a certifiable Disney nerd, Disney Vacation Club member, Annual Passholder, former Florida resident, and the kind of fanatic who has taken her daughters to Walt Disney World fifteen times in seven years.  All of that, plus I write under a pen name for a Disney travel blog [https://www.resalesdvc.com/author/amber/].  I wondered, how could I focus on a single topic?
So Rosie kindly suggested that I try to connect my own characters in Cauldron's Bubble and Double Double Toil to Disney characters.  Okay, I thought, easy.  But it led to some debates and familial conflict and, ultimately, a slight agreement to disagree.
That said, my husband, daughters, and I all agree that Alda is the most like Alice.  This is somewhat of a cheat because Alice in Wonderland was a work of written fiction before it was adapted, but the Disney version is what often comes to mind when we hear the title.  Alice's curiosity and fearlessness in the face of extreme circumstances parallel with Alda, so it seems to be an obvious choice.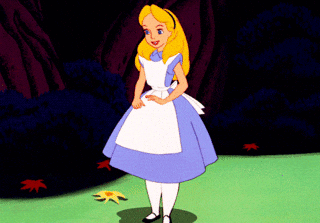 Dreng, however, is more difficult.  I think that he's most like Taran from The Black Cauldron (again, an adaptation of a book, so cheating) because of parallels with the quest archetype.  But my husband insists that he is like Aladdin because they both rely on minimal resources and are quick on their feet.  It should be noted that Aladdin is my husband's favorite Disney character, perhaps tied with Tangled's Flynn Rider, so there is some personal bias at play.
Sycorax was another easy agreement: Maleficent.  My oldest daughter has insisted from the beginning of my series that Sycorax is sympathetic, much as Maleficent is portrayed in her titular film, but she does have a bad reputation, as seen in Sleeping Beauty.  They share magical powers as well, so this was an easy association.  Plus, she's in Descendants, which is my daughters' favorite Disney Channel movie.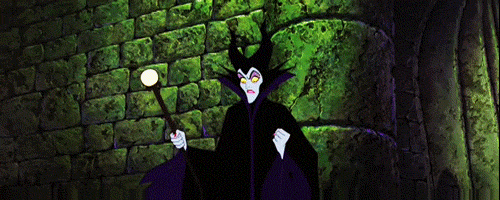 When I wrote Cauldron's Bubble, I actually envisioned Prospero to physically look like Yen Sid, the sorcerer in "The Sorcerer's Apprentice" segment of Fantasia.  I made this connection because they both try to regulate the use of magic, to keep it from others and use it for themselves, so they have almost a miserly outlook on their powers.  Plus, Yen Sid looks like all modern sorcerer-type stereotypes.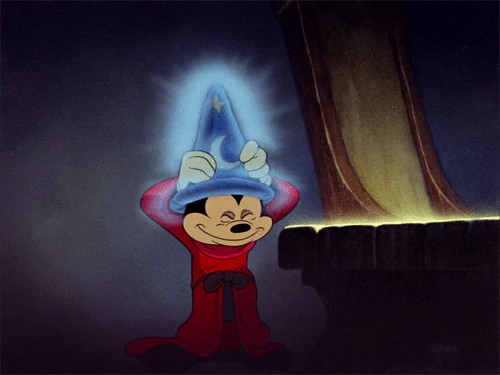 Perhaps surprisingly, Caliban is my favorite character in Double Double Toil.  I recently explained to one of my friends that Caliban is always two steps ahead of everyone else, so he appears crazy to other characters even though he is probably the smartest person in the room.  This is the most like Captain Jack Sparrow, who conceals his intelligence behind a guise of madness (arguably on purpose) in order to serve his own interests.  And, like Caliban, you either fully love him or hate him at the end of the day.
Well, I was going to stop there, but my husband insisted that I write about the Weird Sisters.  I looked at him, confused, and asked, "Who are they?"  "Obviously the Sanderson Sisters," he replied.  Of course!  And what better way to end an October post than with a parallel to Hocus Pocus!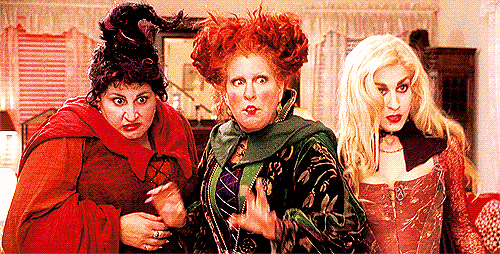 Okay, these photos are SO CUTE! Amber please adopt me and bring me with you!!!???
Amber has also been kind enough to send each of us a page of the book so you can get a taster before you buy! Here is my excerpt…
"…his head atop a table. His arm was bent outward, and
his
fingers tingled. He rubbed his scar down his shoulder to his
forearm, forcing the blood to reanimate his limb, as his eyes
adjusted to the darkness around him.
It took several heartbeats for him to see clearly. Yet
another symptom of remaining too
long on land.
The palace was quiet in the vast middle of the night.
Miranda, Dreng's wife, was either sleeping or patrolling the
corridors with her red, enchanted spirits. Caliban was in his
distant bedchamber.
Dreng was alone, again. As he had bee

n so many nights
in his half
–
year on the island.
So that evening, he had sought refuge among the books.
At first, several months ago, Dreng had read to escape the
monotony of being unnecessary. Miranda was often
exploring the island, leaving him alone t
o search for meaning
within the fragmentary manuscripts and broken bindings.
But there was still not enough to keep his mind
away from
other distractions. Away f
rom worries.
And, apart from books, there was the strange spiral
etched onto the floor, the one that appeared after Prospero
—
Dreng could not finish; he knew too little to end the
sentence. Miranda knew, but he did not want to ask her what
had happened during the fiery storm.
She had told him that Prospero was dead, but he could
not imagine
his wife capable of such a thing.
Some details were better unknown
…"
This book series is every Shakespeare Lover's dream! I am so excited to finish it up. It's also a perfect read for October! Amber's writing is wonderful and I feel completely immersed in the world. To be honest, I'd read her shopping lists so! Be sure to go and check out the rest of the books on this blog tour and give Amber some love on twitter
here
.
If you are in the Austin, Texas area, Amber is celebrating her book att Malvern Books on October 14 at 2:00 p.m. and at the Mid-Cities Teen Book Fest at North Richland Hills Library in Texas on October 20 from 11:00 to 5:00! (I so wish I could be there but I suspect she will come to Yorkshire before I go to Texas hahah!
Is Double Double Toil on your TBR? Let me know down below! 
Follow me on twitter for updates on what I'm reading. Look at the Book Club here.
Thank you lovelies and happy reading! ox